Turn the Traction Control off in an Aston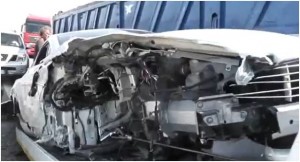 Roberto Ricci is a man. But not just any man – he designs surfboards.
Because of this, he earns a reasonable amount of money, and because of this, he treated himself to a brand new Aston Martin Rapide.
But what does he do with it? He turns the traction control system off, crashed into a barrier on the motorway, and blamed it on the car.