Rockingham with Honda – BTCC Magic
Seán Ward
Mind numbing. That was the best way to describe the traffic surrounding Rockingham on a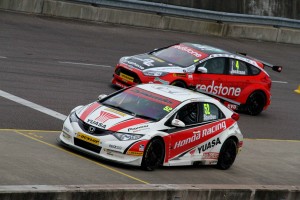 dull, misty Sunday morning hours before three of the closing races of the 2012 British Touring Car Championship season.
Arriving at Rockingham, this being my first British Touring Car race, it was clear to see why the fans turn up in their droves, because as well as the headline touring car races (of which there are three on race day) you get to see the Ginetta Junior Championship, Porsche Carrera Cup, another Ginetta championship, and the Renault Clio Cup.
Walking around, you soak up even more excitement, strolling around the back of the garages, peering into trailers, chatting to drivers.
But I wasn't here to aimlessly walk around, I was here with Honda, so after a quick cup of tea and a sausage sandwich, it was to the roof of the Honda garage to watch 'our boys' do their best to extend the teams 100 point lead over the other contenders.
Race one was a thriller, with Jason Plato coming home in first place, followed by Honda driver Gordon Shedden, with Honda colleague Matt Neal in sixth position.
After more tea, the second race was over in a flash*, with Gordon Shedden coming out on top, followed by Neal and Plato in what can only be described as the wettest motor race in the whole of human history.
And the third race, another wet one, was even more thrilling, with Aron Smith looking to take his first BTCC victory before being snatched away by Shedden, followed by Neal and Plato once again.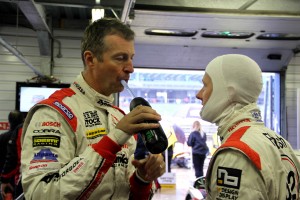 The racing was brilliant – if you ever get the chance to go to a race, do it. But perhaps better than the racing was the openness and the kindness shown by all, the freedom to roam around, chat with the drivers and look at the cars. And things happen in the BTCC that would not happen in other motorsport disciplines, like F1: Jason Plato, a married man, kissed Rockingham's female boss on the lips on national television, Matt Neal raced with a broken hand, and Gordon Shedden hit me in the leg with a cork from a champagne bottle during the champagne podium celebrations after race two. Granted, I was standing ten feet in front of him begging to join in, and I rather enjoyed being drenched in something other than rain…
The next BTCC race is at Brands Hatch on the 31st of March 2013 – get yourself a ticket.
*No pun intended, even if race winner Gordon Sheddon's nickname is 'Flash'…
A special thank you to Honda Yuasa Racing for the invite, wonderful hospitality, a chat with the drivers as they were getting into the cars, a damp grid walk, and a superb sausage sandwich after a three hour drive.
[portfolio_slideshow]