Geneva Motor Show 2012 Published on February 16th, 2012 | by Seán Ward
0
Ferrari California Handling Speciale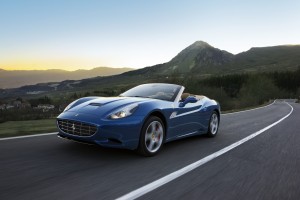 Geneva will see the launch of a lighter, more powerful Ferrari California named the 'Handling Speciale'.
Overall, it weighs 30 kg less than the normal California, and the 4.3 litre V8 now makes 490 bhp 505 Nm of torque at 5,000 rpm.
The major modifications are those to the exhaust system and engine mapping, with modified exhaust manifolds and a completely reworked ECU.
0-60 mph takes 3.8 seconds and the top speed is up from 193 to 195 mph – not much, but if you're ever in a race with an old California you'll be able to humiliate them.
The suspension has been modified to reduce body roll, so the impressive Ferrari Magnetorheological damper system is 50% faster at reacting to bumps and changes in grip conditions than before.
Fans of the 458 will find themselves more t home with the steering, as Ferrari has quickened up the steering by over 10% and supposedly kept all the feel from before.
Ferrari says the Handling Speciale package will 'underscore the California's sporty prowess without affecting its high-performance grand touring vocation – an achievement very much in line with Ferrari's DNA'.
Cars won't be arriving in Europe until the end of the year, by which time Ferrari will be working on a replacement – let's hope they make a Scuderia version.
[portfolio_slideshow]