Stories Published on February 13th, 2011 | by Seán Ward
0
Ferrari Enzo Twin-Turbo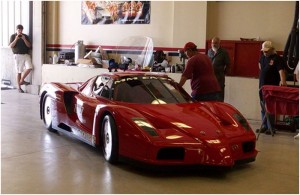 A Ferrari Enzo has been given a few modifications to radically improve performance.
The Enzo, owned by Richard Lossee, was crashed on a straight at a rally at over 100 mph.
Since then, he has rebuilt the front end to make it more aero-dynamic and fitted two turbo-chargers, meaning the car now produces over 850 bhp up from the standard 650 bhp.
It has been done specifically to break the speed records at the Bonneville Salt Flats.
The power will be raised to over 1000 bhp before the record run.
Published on 20th August 2010 at www.motoringpress.wordpress.com.