Geneva Motor Show 2012 Published on February 29th, 2012 | by Seán Ward
0
Ferrari F12 Berlinetta Unveiled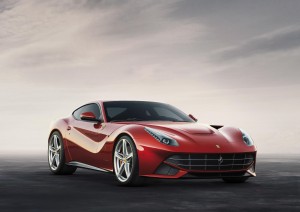 Ferrari has finally unveiled its replacement for the 599: the F12 Berlinetta.
Due to be unveiled for the first time in the flesh at Geneva in two weeks time, the F12 is the most powerful Ferrari road car ever produced, boasting than 730 bhp, 70 bhp more than the £1 million Enzo.
The 6.3 litre V12 also produces 509 lb/ft of torque, meaning it can get from 0-60 mph in 3.1 seconds, 0-124 in 8.5 seconds, and on to a top speed of around 215 mph; impressive figures from a big grand tourer.
Like the 458 and FF, Ferrari's super-fast seven speed twin-clutch F1 gearbox is fitted. Not only is the performance more impressive with this box, but efficiency is improved by more than 30% over the 599, standing at 350 g/km rather than 415 g/km.
Serious changes to the body styling, bringing it into line with the aforementioned 458 and FF, mean that down force is increased over the predecessor too, up 76% at 200 kph.
Interestingly , the F12 is also significantly smaller than the 599, measuring in at 4618mm long, 1942 mm wide and 1273 mm high, meaning it is 47 mm shorter, 20 mm narrower and a pretty noticeable 63 mm lower, as even the road racer 599 GTO wasn't exactly a Range Rover.
Ferrari aficionados will be happy to hear that the F12 weighs 70 kg less than the 599, and can put in the fastest lap at Ferrari's Fiorano test track with a 1 minute 23 second lap.
Prices to start in excess of £250,000, but more will become clear after the Geneva launch.
[portfolio_slideshow]