Stories Published on March 26th, 2011 | by Seán Ward
0
Ferrari FF Crash at Press Launch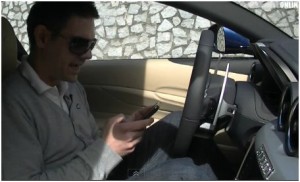 No sooner had the brand new Ferrari FF been given to the motoring press, than one is crashed.
Jethro Bovingdon of Car Magazine said "I'm going to go a little bit faster now" – famous last words.
Whilst demonstrating how good the car was at going round corners, showing how the new four-wheel drive system keeps the £230,000 FF on the road, he smashed both of the wheels on the left hand side into a kerb.
The only damage, apart from to the wheels, was to Jethro's pride.