Stories Published on November 19th, 2011 | by Seán Ward
0
Fiat 500C Twin Air Receives Title 'Gold Winner for Green Vehicles'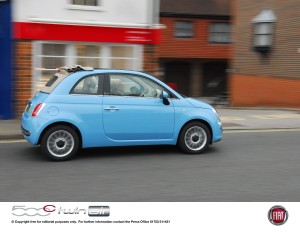 The Fiat 500C Twin Air claimed the title 'Gold Winner for Green Vehicles' at this year's Green Apple Awards.
The award was presented at the House of Commons, London, to Fiat by a winner of the BBC's Dragon's Den, Chris Hopkins, and Ian Donaldson, chairman of the Midland Group of Motoring Writers, which judged and selected the winners.
"We were looking for cars that are not just green on paper, but are green in the real world too, and are also fun to drive," says Ian Donaldson. "The Fiat 500C Twin Air totally encapsulates those thoughts and was a worthy winner."
Elena Bernardelli, marketing manager at Fiat UK, said "I am delighted that Fiat is once again figuring in the Green Apple Awards.
"It is especially pleasing that the award this year recognises two huge developments for 500 – the 'soft top' roof and the two cylinder engine. It demonstrates the breadth and depth of this remarkable city car."
The Fiat 500C Twin Air also won 'International Engine of the Year 2011' thanks to its 0.9 litre, two-cylinder engine that manages 68 mpg.