Stories Published on January 11th, 2012 | by Seán Ward
0
Fiat Boss: Industry Needs to Downsize, but we won't Sell Ferrari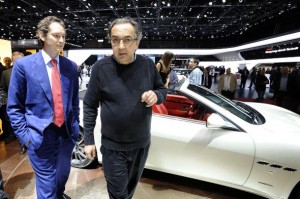 Fiat and Chrysler boss Sergio Marchionne said yesterday that despite the increase in sales for some manufacturers towards the end of 2011, a downsize is still needed to save some manufacturers.
"You need to be a mass marketer or be strong in premium to make money, everything in between is perilous. Particularly in Europe it is patently evident that apart from overcapacity issues, the real problems have to do with economies of scale.
"Make no mistake, without our alliance with Chrysler two years ago there was a danger that Fiat would have been marginalised.
"In Europe Fiat alone is not economically viable and the price competition in the region is hurting any attempt to make money.
"With Chrysler we have the opportunity to share development costs and we can run a number of key vehicles off the same basic architecture for both brands.
"The Dodge Dart we have unveiled at Detroit is based on the Alfa Giulietta. A car similar to this will be available in China in 2012."
When asked if Fiat would ever team up with the likes of Peugeot to make both companies stronger, he was reluctant to say much.
"You have to be careful how you manage multi-brand strategies," he said. "Ford has done well by bringing everything back under the Blue Oval with its One Ford strategy."
And when the subject of Ferrari came up, he scoffed at the idea, saying "You're having a laugh?"
"I'll put it this way – it's like asking a guy with a tin of caviar in his fridge alongside 12 rotten eggs. Would he sell the caviar to buy 12 more rotten eggs? The answer is no, I have no intention of selling Ferrari.
"I'll also answer the second part of that question. Would we sell Alfa Romeo? Again the answer is no, why would we? Would Volkswagen sell Audi?"
He also spoke of how all car producers need to do more to sell outside Europe: "Too many cars are being built in Europe and car companies need to export more and invade other countries, including the US. If they continue to produce for Europe only the only way forward is to reduce capacity and plants then become inefficient.
"If we don't export more then we will have to close plants."