Stories Published on January 28th, 2012 | by Seán Ward
0
Fiat Punto Pricing Announced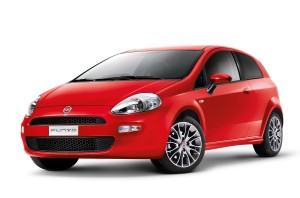 Pricing for the 2012 Fiat Punto has been announced by Fiat, with prices starting at just under £10k.
£9,990 will buy you the entry level 1.2 litre, four cylinder engine, with the top of the range 1.3 litre five-door with 85 bhp costing £15,600.
For slightly less money though, you could get a 1.4 litre turbocharged, five-door with 135 bhp, which costs £15,200.
Top end models come as standard with automatic dual zone climate control, a leather steering wheel, front fog lamps, seven airbags, cruise control, ambient interior lighting and electric sunroof as standard, although all these features are available as options, should you want them.
In terms of trim, the normal Fiat Pop (base), Easy (mid) and Lounge (high) trims can be fitted, but the new Punto sees the introduction of the GBT, a sporty alternative to the Easy, which will feature in all the UK advertising for the new car.
From the end of January the 1.2 entry level car will be in showrooms, but those wanting a TwinAir car will have to wait until the start of April.
Three new paints (Brit Pop Blue, Tango Red and Underground Grey) are available, and the inside has been updated to bring it closer to the 500, but whether or not it will get the body coloured dashboard, like the 500, is unclear.
With Pop, you get a CD player, central locking, electric front windows, and airbags, but for a bit more money the Easy trim gives you alloy wheels, cruise control and cosmetic extras like a boot spoiler and side skirt.
Elena Bernardelli, marketing director of Fiat UK, said "The Punto range has been – and still is – an important car in the Fiat line-up, and we're delighted now to be able to reveal prices of this latest evolution.
Punto is up against some tough competition in its sector but we are confident that we are able to offer an attractive package at exceptional value-for-money prices to keep it a viable and desirable proposition.