Stories Published on June 28th, 2013 | by Seán Ward
0
Final Autotrader Magazine Goes on Sale Today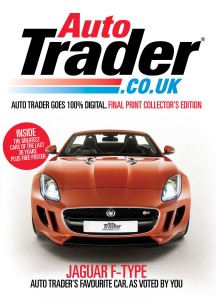 The final printed copy of Autotrader Magazine goes on sale today after 36 years of publication.
While the Autotrader website is going from strength to strength, with 11 million desktop users and 3.5 million mobile users per month, the magazine sales have dropped from 368,000 sales per month in 2000 to 27,000 copies per month in 2013.
Zillah Byng Maddick, Interim CEO at Trader Media Group, said: "[the] magazines have played a key role in the Group's 36 year heritage and we are very proud of the market position our brands have achieved during that period," said Zillah Byng Maddick, Interim CEO at Trader Media Group, who owns the Autotrader brand.
"With a marked shift by consumers and dealers to online platforms as a means of accessing information and buying and selling vehicles, we continue to innovate to ensure that we offer them the products and services they require through their channels of choice."
Whatever the reasons for Autotrader's magazine closure, it's a sad day for print media, and perhaps a sinister sign of things to come in the print world.
But for the Autotrader business as a whole, things look promising; while the magazine won't be printed again, the Autotrader website is seeing a 13% year-on-year traffic increase, while mobile use increases by 67% and tablet use increases by 130%.
To go out with a bang, Autotrader asked readers to decide for a cover car for the final issue, with voters able to choose from 36 'iconic' Autotrader cars. Out of 47,107 votes cast, 27,100 voted for the Jaguar F-Type, so that will feature on the five page pull-out special edition cover.