BTCC Published on February 21st, 2012 | by Seán Ward
0
First Public Outing for Honda BTCC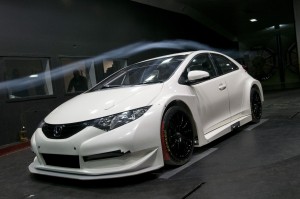 Honda BTCC are giving their 2012 Civic its public debut today at Brands Hatch, as the new season draws nearer.
Piloted by Gordon Shedden and triple BTCC champion Matt Neal, Honda are hoping for a good season with plenty of race wins and hopefully another title.
This is just the second time Shedden and Neal have got behind the wheel of the new car, the last time being at the intense MIRA test track.
Matt Neal said: "This is the first opportunity we have had to get behind the wheel to really see what the car has got. The team are really pleased with the results from the test at MIRA last week and I can't wait to finally start putting the car through its paces.
"It will be interesting to see how the car performs, but I'm optimistic that we'll walk away from today confident we have a championship winning car."
Gordon Shedden added: "The feedback on the new Civic NGTC car so far is incredibly promising and I've been itching to get into the car since the end of the 2011 season. Like Matt mentioned, this is the first time we have had to really push the car and I'm looking forward to putting it into action."
Finally, Team Manager Peter Crolla said why the first public test would be such an exciting time: "The team have all been working so incredibly hard since the start of the NGTC programme back in August so everybody's very excited to see the new car on track for the first time.
"It'll be interesting from the point of view of both drivers and engineers to see how the car behaves on a track where we were very competitive with the S2000 Civic, and we can really start to understand and develop the new car.
"The main aim for the day will be to establish a baseline set-up for the car which we can then tune for the various circuits we visit during the season. Initial feedback from the MIRA shakedown was positive so we're hoping to continue that today and cover some valuable mileage with both Matt and Gordon behind the wheel".
The next test for the team will be at Donington Park on Thursday 23rd February.
[portfolio_slideshow]