Geneva Motor Show 2012 Published on January 31st, 2012 | by Seán Ward
0
Five Door Citigo to Debut at Geneva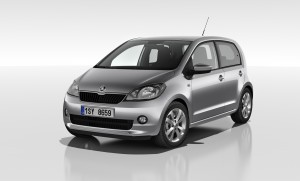 Skoda will be presenting a five-door variant of the Citigo at the Geneva Motor Show in March.
Launched originally in Czech Republic in December last year, the car performed well, pushing Skoda to sell the car in the UK and elsewhere in Europe.
All in all, it's a handsome car, but it shouts MPV rather than cheeky five-door.
That's nothing to be ashamed of, though, as its got good looks and a good selection of engines: two petrol three-cylinder, 1 litre engines with 60 or 70 bhp.
Because of the extra doors, it looks less like the Fabia VRS, and but having the extra doors really will help practicality.
Most importantly, the CO2/km stands at around 96g, which is really rather excellent.
According to Skoda, the Citigo variants will be helping to push their production numbers above the 1.5 million per year mark by 2018