Sales Published on June 28th, 2013 | by Seán Ward
0
For Sale: James Bond's Lotus Submarine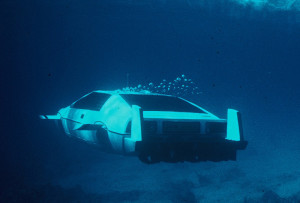 If you've ever wanted to own a Bond car, you've now got the opportunity to do so! Not only that, but it's one of the most iconic Bond cars ever created: the Lotus Esprit Submarine.
The car will be going up for auction at RM Auctions at its London sale on the 8th and 9th of September.
Built for the 1977 film The Spy Who Loved Me, while there were six Lotus shells used in the film, this is the only working Esprit submarine in existence.
"This particular Lotus is certainly up there amongst the most famous cars of all time," said RM Auction's MD Max Girardo.
"Over the years, millions of moviegoers have stared in awe as the Lotus transformed itself into a submarine, and now, perhaps one of them will have an opportunity to own it!"
After its film work was finished, it was moved to a storage facility in Long Island, New York, where its space had been pre paid for a ten year period. The contents of this storage space was forgotten about until it came up for a blind auction in 1989, where the unit was bought for what RM Auctions describe as a "modest" sum of money, after which the buyers realised what was hidden away inside.
Said to be built for $100,000 ($500,000 in today's money), don't be surprised if prices exceed £1.5 million.
In a similar Bond sale, Sean Connery's Goldfinger and Thunderball Aston Martin DB5 sold for £2.9 million in 2010.