Geneva Motor Show 2012 Published on February 2nd, 2012 | by Seán Ward
0
Ford B-Max for Geneva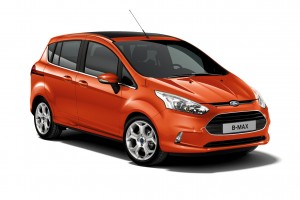 A new compact 'multi-activity' vehicle has been unveiled by Ford today ahead of its launch at the 2012 Geneva Motor Show in March.
Destined to be something of a Vauxhall Meriva competitor, the B-Max has five seats, rear sliding doors and a spacious interior.
New for Vauxhall is the incorporation of the B-pillars into the door frames, an innovation which caused headaches for the Vauxhall engineers as the loss of these pillars usually reduces the forces the side of the car can take in a side impact, but Vauxhall remains adamant the car will be a very strong and safe environment for passengers.
There will be a couple of current Duratorq TDCi diesel engines available, as well as a new 1.0-litre EcoBoost petrol engine that was show for the first time a few days ago, which will have around 130 bhp and be able to manage an impressive efficiency: 58.9 mpg.
Stephen Odell, CEO of Ford Europe, who will unveil the car in March, said: "The B-MAX combines an exciting, innovative design with features that only previously have been found in bigger cars.
"It's a brand new car that responds to the needs of an increasing number of customers who want much more from their small cars."
The B-Max will be on sale in showrooms in September this year, and more details will be released in the run up to the Geneva show.
[portfolio_slideshow]