Paris Motor Show 2012 Published on September 5th, 2012 | by James Allen
0
Ford Fiesta facelift: New looks, new tech, new engines.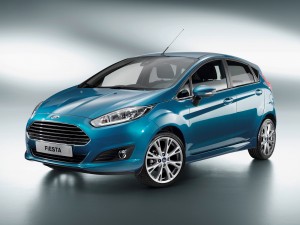 Most mid-life facelifts aren't really that radical, with the general process being just nip 'n tuck tweaks here and there. However, that's not the case with the Ford Fiesta – in fact, the mid-life refresh for Ford's premier supermini goes far deeper than that.
The most obvious changes are to the external bodywork, which features the Aston Martin-esque grille we first saw transplanted on a Fiesta with the ST Concept car. Ford is also keen to point out the redesigned rear light clusters, along with the new bumpers, tweaked headlights (now with LED running lamps) and the 'power dome' on the bonnet.
Inside, changes aren't quite as apparent, but still obvious if you know what you're looking for. The biggest and, perhaps, most noteworthy improvement over the original sixth-gen Fiesta is the redesigned switchgear layout on the centre console, with a less cluttered and more upmarket look and feel this time around.
There are also a few new options to specify on the updated Fiesta, with the most high-profile gadget now available being Ford's new 'Sync' voice-activated multimedia system that debuted on the new Ford B-Max.
Other new gadgets included are the firm's 'Active City Stop' system, which slows the car down if it detects an imminent accident or collision.
But it's the engines that are the big news with the Fiesta facelift, as two new powerplants now enter the range. The first is a new 1.5 diesel that'll replace the 1.4 and 1.6 oil burners simultaneously and will come in various guises with various power outputs, though from launch will only have 74bhp on tap.
The second new engine is the company's highly publicised 1.0 three-cylinder Ecoboost engine, with Ford claiming it'll deliver best-in-class running costs in its most efficient guise. That means fuel economy in the region of 70mpg o, and sub 100g/km of CO2 emissions.
For hot hatch fans, though, there'll also be a 177bhp version of the 1.6 petrol Ecoboost engine for the upcoming Fiesta ST model (incidentally, the only Fiesta variant to undergo any chassis tweaks, as the rest in the range remain with the same setups they had from launch in 2008).
Ford will unveil the updated Fiesta at the upcoming Paris Motor Show, with deliveries said to be in January next year. Prices haven't been fully confirmed as of yet, though we expect them to be similar to what they are currently for the 'mainstream' models, whilst the Fiesta ST (due sometime in Spring 2013) will top off the range at £17,000.
[portfolio_slideshow]