Drives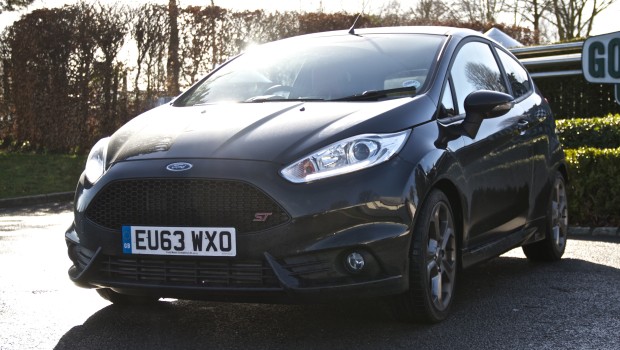 Published on February 20th, 2014 | by Seán Ward
0
Ford Fiesta ST – First Drive
The Fiesta ST is something of a big deal – almost every review you'll read and every video you'll watch will prove that.
Oddly, though, I've never driven one. I've been sitting down, talking to other journalists and 'car people', discussing how the Fiesta ST is a real gem of a car in an industry where doing something for fun doesn't happen very often, and yet I haven't sat behind the wheel.
But today that changed. Today I drove a Fiesta ST.
I will state from the outset that this is not a full review, or even anything close. I was at an event for the new Ford Toureno Connect (my thoughts on that will be published soon) and, by chance, a Fiesta ST was lurking in the car park, so after some Grade A begging I was given the keys for a quick twenty minute blast.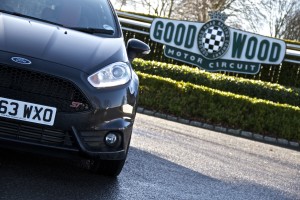 We were down at Goodwood's circuit, and heading out from the gates it was clear the roads were not in the greatest of shape: piles of gravel were everywhere, potholes were hidden under masses of standing water, and, most worryingly of all, the B-roads I was on were treacherously narrow.
First impressions then? The clutch prefers being used at speed; at low speed, obviously, its still a Fiesta, but there's a fine line between stalling and getting going. Get the ST up and moving, however, and you realise what seemed like a slightly tricky low speed clutch makes changing gear at speed so much more enjoyable. The gearbox is slick, light and direct, and combined with a clutch that eggs you on to pick up speed, it starts to bring out the car's character.
Driving relatively slowly, the suspension is firm and busy, but start gathering pace and the car settles down. It's still firm, but it feels more relaxed. (Again, another hint that the ST has been made to be enjoyed going quickly, rather than pootling around town in.)
Thanks to the Lord of Weather (and a limitation on time), I couldn't use the brakes hard or fully get to know what the tyres and chassis were really capable of, but it's safe to say that, even in the wet, the brakes are very good, and there's an inherent balance in the car that, you guessed it, encourages you to drive with pace. You can feel the weight of the car moving around, and the nose darts and dives wherever you need it to.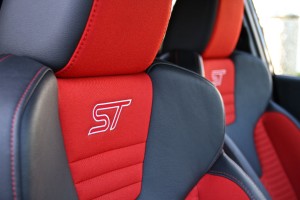 Now, inside. The steering wheel is great and nicely weighted for this size of car – I'd originally expected it to be much lighter. The gearbox, as I've said, is quick and easy to use, and the throttle and brake pedal are responsive and firm. The seats are excellent, too.
Let's be honest, though: the interesting bit is under the bonnet, as the ST has a 1.6 four-cylinder turbo with 179 bhp and 214 lb/ft of torque.
It's a fantastic engine. Most of the noise, particularly in the middle of the rev range, comes from the exhaust (what seems to be a very good exhaust system that's quiet at low speed but ramps up the noise when you fly up the revs), but higher up you start to hear the engine itself a little clearer. From idle upwards the engine is torquey and potent (point to point on tight, twisty roads, odds are you'd struggle to keep up in almost any other car), with peak torque at 1,600 rpm and peak power at at 5,600 rpm. You can feel it start to slow up at the very top, but that can be solved quite easily by grabbing another gear. Which you will do. A lot.
0-60 mph takes 6.9 seconds and the top speed is 139 mph. Hardly stately at any price, let alone £16,995.
It's a properly fantastic little car, the ST. As I said, my drive in it was far from comprehensive (I'll have to do some more Grade A begging and a little bit of praying to have a proper drive in it some time this year), but even in my very brief encounter it inspired confidence, even in tricky conditions, and brought a rather silly grin to my face that lasted for most of the journey home.
I look forward to my next encounter.