Stories Published on September 4th, 2012 | by James Allen
0
Ford Focus is 2012′s most popular car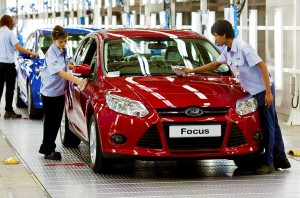 A short while ago, it was announced that Ford had built a staggering 350 million road vehicles, and now there's another new accolade for the American giant in 2012 – the Ford Focus is set to become the best-selling car of 2012.
Though the figures only cover the first six months of this year, it does show a remarkable achievement on the Blue Oval's part. No doubt assisted by the company's 'One Ford' policy, which intends cut the firm's model count from 97 to just 20, the number of Ford Focus examples that have rolled of the production lines so far tallies this year at 489,616.
In comparison, the worldwide sales for the Toyota Corolla – the car that usually tops the global charts - for this year so far came in at 'only' 462,187.
As a result, though the Corolla will retain its title of possessing the best-selling car nameplate of all time, if such a pattern continues into the second half of this year, it's likely that there'll be more 2012-registered Focus variants on the world's roads than of Toyota's ever-popular compact car.
However, despite its newfound status as a potential soon-to-be sales topper, along with its esteemed position as Britain's most popular car, Ford Europe is expected to report in financial losses of at least $1 billion at the end of this year.