New Cars Published on July 2nd, 2013 | by Seán Ward
0
Gallery: Renaultsport Clio 200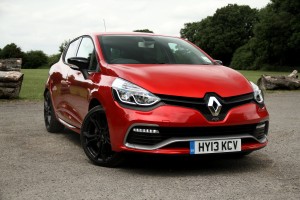 The Renaultsport Clio 200 is one of the best looking cars on sale right now, so yesterday we took the liberty of spending some time with one, snapping away at its menacing wheels, funky lights, and its many, many 'RS' badges.
What do you get for your £18,995? Well, unfortunately for car enthusiasts, you get Renault's dual-clutch gearbox (EDC – 'Efficient Dual Clutch') that's not as responsive as it needs to be to replace the manual of fast Renaults of the past, and you get a rather gimmicky option to play other Renaultsport engine noises through the speakers (or a Nissan GTR…).
But everything else is good. Launch control means 0-60 mph in 6 seconds, sending you on to a top speed of 143 mph, courtesy of a 1.6 litre, turbo-charged engine with 200 bhp and 176 lb/ft of torque.
[portfolio_slideshow]