Geneva Motor Show 2012 Published on February 23rd, 2012 | by Seán Ward
0
Geneva Sees New Veyron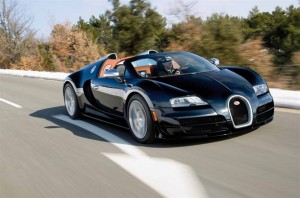 Probably the last time we'll see a 'new' Veyron unveiled at Geneva until a replacement is unveiled towards the end of 2013.
Called the Grand Sport Vitesse, it's essentially a convertible Super Sport, and so has the same quad-turbo, 1200 bhp, 1100 lb/ft W12 engine tucked underneath a more aerodynamic body.
It won't be available in the 'World Record Colours' that feature on just five Supersports, but it's really not an issue.
With a sleeker body than the convertible 'standard' Veyron, the Grand Sport, and a tuck away roof, it's perhaps the best looking Veyron there's been.
Wolfgang Dürheimer, Bugatti's President, said: "We gave our all to transfer the achievements of the Super Sport over to the Grand Sport, thereby turning open-top driving itself into an extraordinary experience at high speed".
[portfolio_slideshow]