Get 'the Chain' to Number 1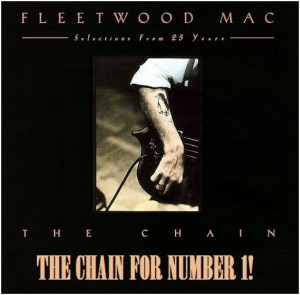 Get 'the Chain' to Number 1 is a national campaign with the aim of getting the legendary song 'the Chain', written by Fleetwood Mac, more commonly known as the theme to the BBC's Formula One coverage, to number one for the start of the 2011 Formula One season.
Buy 'the Chain' here on iTunes, Amazon or 7Digital. Note, it must be bought from the album 'the Very Best of Fleetwood Mac'.

According to George Caröe, a student from Southampton and the founder of the campaign, it needs approximately 30,000 sales between now and the 19th March 2011 to get the number one status, although sales after this date would still help the song in the charts.
'The Chain' is currently 15th in the iTunes Rock Chart, 184th in the main iTunes chart, and 137th overall worldwide.
The song never made it to number one at the time of its release in 1977 because it wasn't actually released as a single. In fact, the highest it has ever been in the charts was in 2009 when it was reintroduced as the theme for the BBC's Formula One coverage, reaching number 94.
The song, however, has always been popular to motorsport fans ever since it was first used by the BBC in 1978 to kick off the '78 season.
Click here to see the BBC's original Formula One titles, or the current Formula One titles.
It is widely regarded as an iconic and thought provoking piece of music that will always be at the heart of Formula One.
Follow the campaign on Twitter:

Like the campaign on Facebook: