Stories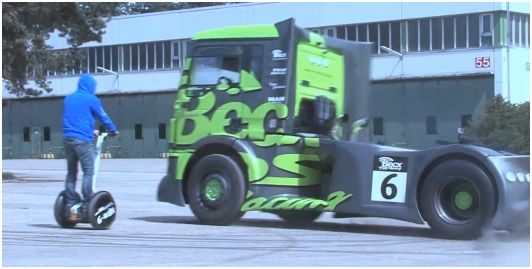 Published on July 3rd, 2013 | by Seán Ward
0
Gymkhana Trucks – When Rally Cars Aren't Good Enough
Every human on Earth, it seems, has seen Ken Block in his Gymkhana videos, whether it be his early films in a Subaru on an airfield, or in his latest film with his Fiesta Gymkhana car and the city of San Francisco. But what do you do if a 900 bhp Fiesta isn't good enough?
Truck racer Michiel Becx decided to take his Becx-TDS Racing truck, with 1,100 bhp and a top speed of 133 mph, and prove that Gymkhana isn't just for cars.
Shot at an "epic playground" in the Fursten Forest, Germany, Beck drifts the truck round a Segway, shatters a 10ft block of ice with a man standing on top of it during a hand-brake turn, and eventually makes the tyres explode.
This is "Truck Gymkhana 1" ('Truckhana?'), so expect to see sequels with bigger stunts and higher production values. Maybe even a cameo from Mr Block himself.
[youtube http://www.youtube.com/watch?v=OT8Eh7BBqOQ?feature=player_detailpage]