Stories Published on February 19th, 2011 | by Seán Ward
0
Heikki Kovalainen Escapes Burning Lotus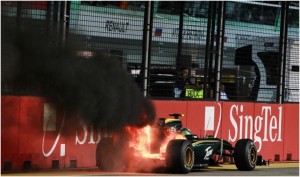 Heikki Kovalainen casually escaped his burning Lotus F1 car in the 15th race of this year's 19 race Grand Prix season at Singapore.
The cause of the fire is, as yet, unknown, however, many wondered why Heikki didn't pull into the pits when he had the opportunity to do so.
However, speaking in an interview after the race, he said that "I didn't want to go into the pit lane with the car like that as it could have hurt a lot of people."
I looked for the fire marshal on the pit straight and took the car there. There was a bit of damage but no-one got hurt and that is the man thing."
Heikki is currently 19th in the driver's championship.
Published on 26th September 2010 at www.motoringpress.wordpress.com.
[portfolio_slideshow]