Stories Published on March 22nd, 2013 | by James Allen
0
Hennessey Veneom GT on brink of breaking records with latest 265mph speed run
Hennessey has long claimed that its monstrously powerful Lotus Elise-based Venom GT has the potential to become the fastest road car in the world, and the latest speed run brings it even closer to breaking the world record for production cars.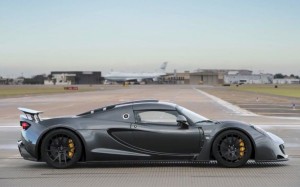 At a recent test session at the Naval Air Station in Leemore, California, Hennessey was able to reach a verified 256.7mph on a two-mile high speed run.
In comparison, the current world record holder for the fastest speed achieved by a road car is the Bugatti Veyron SuperSport, which was able to reach an average speed of 267mph, which was achieved by removing the 258mph electronic speed limiter on the Veyron SS customer cars on a five-mile long straight section of Volkswagen's Ehra-Lessien test track.
Whilst it's yet to be officially verified by Guinness as being a new record (the Venom GT needs to do two runs in opposite directions for an average speed to be calculated) it's becoming increasingly likely that the 1,200hp Hennessey will soon become the fastest road car in the world.
Watch this space.