Stories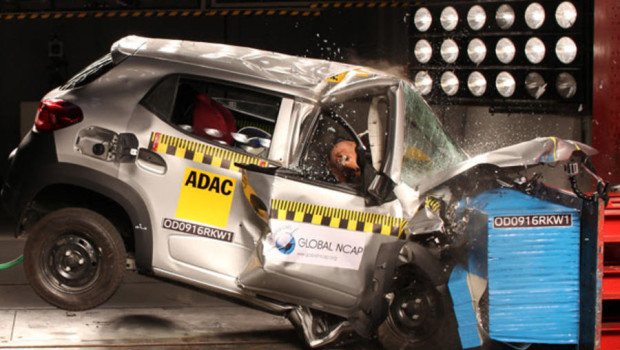 Published on May 18th, 2016 | by Seán Ward
0
Here's What Happens In A Zero Star Safety Rated Car Crash
Car accidents are horrific, there's no denying it, but whereas some accidents in the UK, the rest of Europe and the USA don't lead to a death or serious injury, have the same accident in a car in a seemingly modern car in India and the results could be dramatically different.
Global NCAP results have just been released for a number of cars that are built for the Indian market, cars from manufacturers we all know like Renault and Hyundai, and companies you might not know like Mahindra and Maruti Suzuki.
The results are horrific. The Renault Kwid, Maruti Suzuki Celerio, Maruti Suzuki Eeco, Mahindra Scorpio and Hyundai Eon all received zero stars for adult occupant protection. Zero stars. Here's what that looks like:
Did you see how the drivers head in the Eon smashed into the steering wheel, deforming it completely? You'd get more than a nose bleed from that. The Renault Kwid was the only car that managed to haul one star back after it was fitted with an optional air bag, but that's an option not many people tick in India.
The Suzuki Maruti Celerio was the worst.
Around 1,700 people are killed on the roads every year in the UK and more than 32,000 in the USA compared to 135,000 people in India.
David Ward, secretary general of Global NCAP, said "The latest results show how important it is for cars to have a body shell that can remain stable in a crash. This is an absolutely crucial prerequisite for occupant safety together with fitment at least of front airbags… It is very surprising that a manufacturer like Renault introduced the Kwid initially lacking this essential feature."
The Kwid costs around £3,000 in India compared to £5,995 for the UK's cheapest car, the four-star Dacia Sandero.
So what's going to happen? Until 2018 these zero star cars will continue to be manufactured, but from 2018 onwards new safety regulations in India will mean standard fitment for airbags, ABS and seat belts. That's all well and good, but I just find it staggering that, regardless of whether these cars are sold in a different market or not, these companies are willing to sell a car with their name on it that it so completely dangerous.
Renault describe the Kwid as "an attractive, innovative and affordable vehicle for international markets" and yet even with an air bag fitted it manages a one star safety rating? It's just plain wrong.