Stories Published on February 10th, 2012 | by Seán Ward
0
Hide and Seek with a 500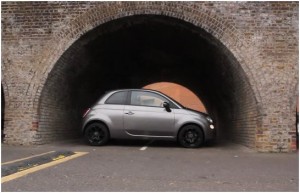 Our friends at carthrottle had a good old school child's game this week, but unlike the kind of thing we all enjoyed in the playground as young nippers in short trousers, they decided to do it in a car.
The car in question was the new Fiat 500 TwinAir, with a teeny-tiny 0.9 litre two-cylinder engine, good for around 70 mpg and 60 mph… Eventually.
So what did they do with it? Well, Adnan took the 500 and ran away, and his colleagues waited for ten seconds before pursuing.
Luckily, there were no crashes, skids or fires, which is exactly what used to happen in the playground when I was young.
If you get a chance, organise a game of 'Car Hide and Seek' – it looks fun.