Drives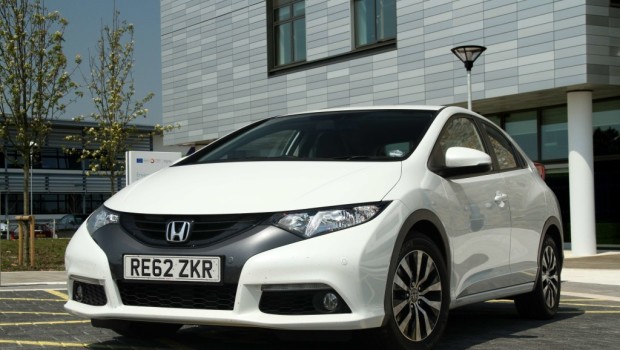 Published on September 1st, 2013 | by Seán Ward
2
Honda Civic 1.6 i-DTEC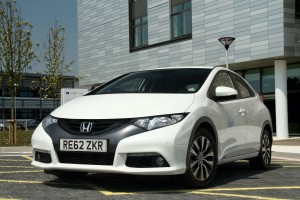 For many people, long journeys are treacherous affairs that require a great deal of concentration, incredible volumes of coffee, and numerous stops to the motorway services to refuel and dash to the lavatory.
I, on the other hand, rather enjoy long journeys and very rarely feel the need to do anything except sip water, listen to the radio and keep an eye out for anyone who is likely to kill me.
Periodically, however, I have to refuel. Refuelling is a hateful business; not only will any garage on a motorway charge a premium because you have no choice as to where you fill up, but driving cars that I don't own, I never know which side the filler cap is on or, more irritatingly, how to release the cap.
I hate also how I leave with hands that smell of petrol, how other people seem to park their car at the pump but then spend twenty minutes in the shop browsing through the torch selection, and how you can tell some till assistants are just dying to steal your card details.
I do believe, however, that I have now found a cure for the illness that is visiting a petrol station, and that cure is the new Honda Civic 1.6 diesel.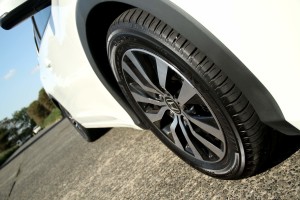 To give it its full name, the Honda Civic 1.6 i-DTEC doesn't sound very exciting. Firstly, there's the engine size, which many will think is too small and not something to brag about. Then there's the letter 'D', which for most symbolises a rough journey and a distinct lack of driving fun.
Nevertheless, I decided to take the car to Helston in Cornwall, partly because a Cornish Pasty seemed so alluring, but mostly because when a manufacturer puts a figure like 78mpg under your nose, you desperately want to run around shouting "LIAR" at the top of your voice, and the only way to do that is by going on an economy run.
So how did the little Honda fare? If I were to say to you that any Honda Civic, whether it be the 1.6 diesel or not, would travel 863 miles on one tank of fuel you'd call me an imbecile and tell me to stop writing. But what if I told you I made it from Worthing to Cornwall and the needle only just dropped below full?
I kid you not, after 270 miles of driving, and a really rather ridiculous journey time of nine hours, the fuel gauge had only just slipped below '1'. I have never encountered a press car that has done anything like its claimed figures, and so to make it as far as I did and be left with that much fuel was simply incredible.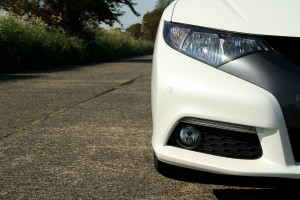 And it wasn't like I was on a proper economy run, either. Yes, I was driving carefully and lifting off before roundabouts rather than braking, but fun wasn't compromised. Lifting off rather than braking gave an excuse to zoom in and out of roundabouts, and the majority of the time, with the roads as nice as they were, I was accelerating quite quickly.
Granted, doing 70mph the economy dropped to 60mpg or so, but is that something to complain about when, at 60 mph, I was getting the 78mpg claimed by Honda?
From then on, though, I'm afraid my economy did drop a little. Honda uses sentances like "thrilling performance" and "response and road holding" on their website, so putting those claims to the test on the beautiful roads of Cornwall resulted in the rather silly figure of 14mpg…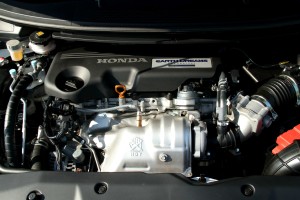 Like all diesels, most of the torque comes in at the bottom end of the rev range, peaking at 221lb/ft at 2,000rpm, but rather than the usual satisfying thump of torque you get from bigger diesels like the Civic 2.2, the torque delivery in is smooth and fairly unnoticeable. The real power comes in not long after with 120bhp at 4,000 rpm, so provided you don't rag it to the redline, the engine won't feel too asthmatic.
Elsewhere, the story of the Civic was more or less the same as usual. The car looks great, has a nice smooth gearbox and rides well, but understeers whenyou push, has spongy pedals and a speedo that is in the wrong place. As I've said before when I drove the 1.8 petrol, you have to put the wheel lower than you'd want if you want to see what speed you're doing.

There are other problems, too. Firstly, I couldn't help but notice a rather disconcerting sloshing noise coming from the fuel tank when the car was delivered. Also, as a speed bump in Cornwall discovered, the front splitter is rather low and sitting behind the wheel you have no idea where the front of the car is. At one point I stopped during a three point turn so a friend could get out to look, after which he shouted I had at least another foot to play with until I mashed the kerb.
And of course, there's the question of money. Prices for the 1.6 diesel start at £19,400 for the base model, but my car, the EX trim with sat-nav and heated seats, teemed with the "White Orchid" pearlescent paint (a £500 option), costs a whopping £23,675. That's quite a lot, especially when you consider that it's possible to buy a 12 month old 1.6 with the same paint and same trim for £17k…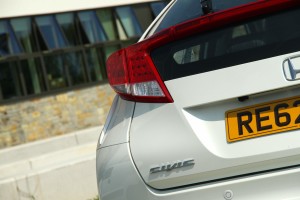 But I came away from the car actually quite wanting one. No, it doesn't get your pulse running and it's an expensive creation, but the chassis is fun enough when you need it to be and the engine so ridiculously economical the rest of the time. 0-60 mph takes 10.5 seconds and the top speed is 129 mph, but to be honest you shouldn't be buying this car for performance. (The 1.8 petrol Civic I tried last year has got the more entertaining engine.)
Buy it for the economy, the comfort, and because you'll never have to stop for fuel again.