Drives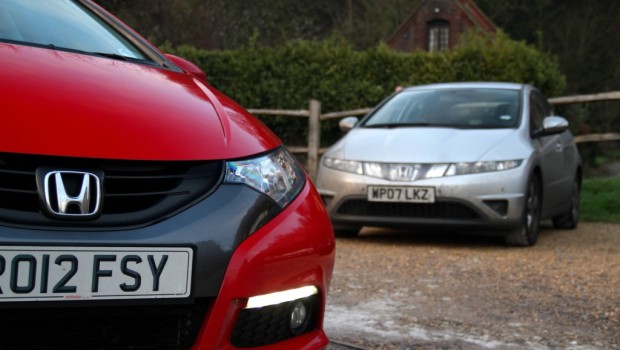 Published on April 1st, 2013 | by Seán Ward
0
Honda Civic 1.8 ES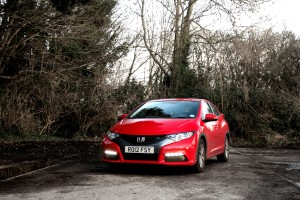 Alas, the Civic Type R is no more, and that I think is a great, great shame.
You see because I'm very young and look like I should still be carrying around a school satchel and a filofax, I haven't actually driven the Civic Type R. Hopefully, one day, when I look a bit older (perhaps old enough to carry something more substantial like a book bag) and have broken through the six foot barrier, Honda will let me drive both the second and third gen R, or perhaps even the first gen R.
But for now, I have to discuss the Type R from what I have heard and seen, rather than experienced firsthand. So here goes.
From what I understand, the second gen car was a lunatic that liked to lift one of its rear wheels off the ground under really hard cornering, and make other hot hatches look overpriced and a bit daft the rest of the time. As for the third gen car, I understand that to be good fun, but not quite as exciting as the previous car, as it weighed 70kg more and had just one extra horse power.
Now you may wonder why I'm discussing the Type R when, quite clearly, I'm not reviewing a Type R.
Well, firstly, Honda have confirmed that there will be another Type R along in 2015, as well as a new NSX, but until that time comes, for this fourth generation Civic, this 1.8 litre engine is the biggest petrol available.
Secondly, and probably more importantly, in the two months prior to me driving the car, I had predicted that this would, somehow, still be a Type R –  a crazy little pocket rocket, with an obscene spoiler and outrageous performance.
First thoughts were good. The obscene spoiler that many people believe to be a ridiculous after thought is as hilariously massive as I thought it would be (and for those asking why it's there, ask yourself what the car would look like if the spoiler was at the top of the
car or not there at all). Also, the car I had was finished in Milano Red; such a bright and vibrant red that it signalled to my brain "this is a Ferrari Civic". Or a Ferronda. Or a Horrari, which ever you prefer.
Inside, the car sent more Ferronda signals to my brain, as the pedals were drilled aluminium and looked like something out of an Enzo, the seats were big and supportive, and the dials were crystal clear and looked pretty racey.
But my hopes of this being a racey, fast hot-hatch sort of car began to fade when I got in and tried to make myself comfortable. When I get into a car, I like to get myself sitting nice and low with the front of the seat higher than the back, and with the wheel close to my chest and quite high up, so I can see all of the instruments through the steering wheel. But with the new Civic, I was surprised to find that there was no option of raising the front of the seat, and nor was there a conventional speedo, as far out near the back of the dashboard is an electronic speedometer, to the far left of which is a screen that tells you what's on the radio and when you need to fill up. While that doesn't sound too bad in theory, when I get myself comfortable, sitting low with the wheel high, while I can see the instruments, the top of the wheel completely obstructs my view of the speedo, a criminal mistake by the Honda engineers.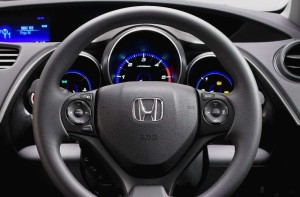 In the centre of the instrument cluster is the rev counter, which is brilliant, next to which is the fuel gague. But on the other side of the rev counter is a big dial for the oil temperature. It really does baffle me why Honda has chosen an electronic read out rather than a conventional dial, because it meant that I was left with a terrible choice to make: either I could be comfortable but get arrested, or stay out of jail but feel like I was operating the wheel from a second floor. Granted, it isn't all that bad once you get used to it, but it's just a shame (if the Type R does come along in 2015, I really hope a normal speedo is put in).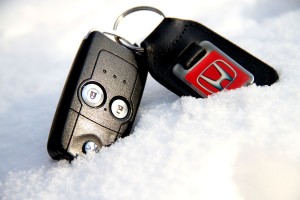 Whilst I'm on the subject of the interior, while everything felt very nice inside and well put together, there were a few too many black panels for my liking, and my car didn't have sat-nav. Please don't think that I'm the kind of chap who needs a satnav because I love using a map, but no sat-nav in a car that costs £18,995 is a bit of a letdown. (My car was the 'ES' level of trim, and you have to pay an extra £995 to take the spec up to ES-T to get sat-nav.)
Dynamically, too, with the Type R wrongly imprinted on my mind, I felt short changed. While I've seen my exact car be hurled round a track and provide ample quantities of lift off oversteer, I never experienced that. Granted, I wasn't on a track and the weather was hideous (icy conditions meant I had the car for four extra days, but it was buried under a foot of snow), but the front end felt like it pushed on a bit too much when driving spiritedly.
So, now you're thinking that the new Civic is a bit of a letdown – it looks good outside, but both my opinion of it, and the outcome of this review, have been ruined at the last moment by a few small interior design errors, terrible weather, and minor mechanical shortfalls.
But, despite all its problems, I grew rather fond of the Civic.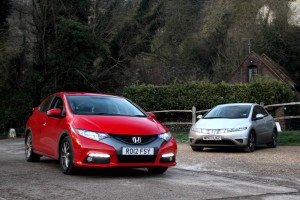 Firstly, there's the styling. Yes, I miss some of the fantastic styling tweaks of the older car that have, for some incomprehensible reason, now gone away, like the triangular exhausts and the arrow shaped door handles. But with the new look comes some interesting new features, like the contrast middle section of the front bumper, the more aggressive headlights, and the integration of the once separate rear spoiler and rear lights. And for Honda to say "yes, let's keep the spoiler that everyone complained about because it looks cool" really says that this was built by people who would be good at running Lamborghini or Lancia. "Who cares if it doesn't do anything useful and stops people from seeing what's behind? Let's put it on anyway!"
But best of all is the engine. It stunned me. It isn't blistering (0-60mph in 9.1 seconds and on to a top speed of 134 mph) and more torque would be nice, but it has enough. And, it's an i-VTEC engine, the same kind that used to be put in the Type R, just with a smaller capacity. So drop it down a couple of gears and rev it until the pistons make a break for the moon – that's what it loves. Granted, my wallet didn't like it too much (at best I was getting mid 40's for the mpg), but when you only have a car for a week, who cares?
What's it like for the enthusiast? Should you buy one?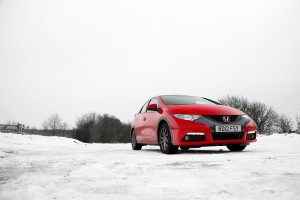 I didn't fall in love with this car as I was expecting, and it had its problems. Personally, I would prefer a more conventional dial layout, but that's probably more to do with the fact that why I may look about 12, I was mentally born in the 1930′s, so I prefer things to be rather conventional. And, as I said before, the interior is quite dark.
But I cannot escape that engine. It dominated my experience with the car and I miss it. I wouldn't buy one with my own money (only two years till the 'R'), but between this car and competitors, it does have a unique sparkle hidden away under the bonnet that you just can't get away from.