Motor Shows Published on September 15th, 2012 | by James Allen
0
Honda teases facelifted CR-Z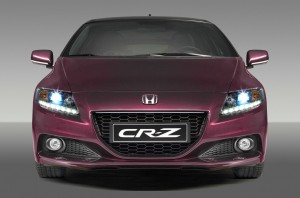 There's been speculation recently with regards to Honda launching a facelifted version of its hybrid sports coupe, the CR-Z, at the upcoming Paris Motor Show, and we've now had official confirmation that such a car will be making an appearance.
However, Honda is being incredibly tight-lipped about the specific changes that come with this new update, though we have been given an idea as to what to expect via some very vague statements.
For instance, Honda claims that there'll be tweaks to the exterior and interior, but doesn't add any additional information to that statement. That said, if the solitary 'clear' photo we have is anything to go by, don't expect anything the CR-Z to be unrecognisable in its updated guise.
Perhaps of more interest, though, is the fact there are claims of more power and torque "without any compromise to fuel consumption or emissions". Again, we're not expecting anything radical here, and certainly not in the same vein of the CR-Z Mugen Concept, but any extra horses are welcome – after all, one of the most common complaints from the critics regards the car's slight lack of power, especially for something that's billing itself as a sports car.
And that's all we have on the updated CR-Z so far. However, we're certain that more details will be announced in the coming days (or at least when the car's officially unveiled to the press and public towards the end of the month), so keep your eyes peeled on our news page for any updates.