Stories Published on February 12th, 2012 | by Seán Ward
0
Hope despite Nürburgring's Tricky Finances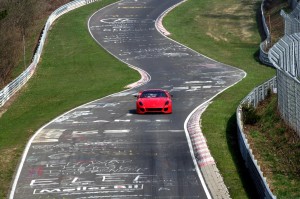 After months of wondering whether the Nürburgring could remain open to the same extent it is currently, it looks like the 'Ring' will find some financial stability over the coming months.
Now the regional government of Rheinland-Pfalz has decided to terminate the tenant's agreement with the current owners, and take control of general operations until a solid investor can be found.
The current tenants, two young entrepreneurs from the South of Germany, tried a number of tactics to raise cash and profits after they took control of the 'Ring' three years ago, including a conference facility for hire, amusement park, museum and roller coaster, all of which failed to generate any interest, as what people really wanted to do was get out on track.
To encourage more customers, the price to lap the 'Ring will be lowered to its original price of 5 Euro, and when new management takes control, with any luck, the Nürburgring will be back on fighting form.