Stories Published on December 21st, 2011 | by Seán Ward
0
Hot A1 Quattro to be Built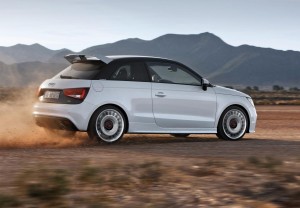 Audi has announced it will be launching a hot Audi A1 Quattro for next year.
The A1 Quattro is limited to just 333 examples, all of which will be left-hand drive, and all of which will have a 2.0-litre TFSI producing 265 bhp and 350 Nm of torque.
0-60 takes just 5.7 seconds, and the top speed is 152 mph – not bad for an A1, especially when you think that something like an RS5 is limited to 155 mph.
One of the most interesting features is the new Electronic Stability Program (ESP), which holds the car to the ground when switched on, but can be completely turned off should the mood take you. Not only can it be switched off, but thanks to redevelopment, it allows a bit more slip and therefore a bit more fun than the bog-standard ESP in the normal A1.
The car is finished in an exclusive Glacier White metallic paint, and comes as standard with 18-inch turbine design alloy wheels in the same colour. It also features a black roof, tinted windows, LED rear lights and a black rear diffuser.
It is 3,987 millimetres in length, 33 millimetres longer than the standard car, and also sits lower to the road than normal.
The interior is 'purposeful' black, and the seats and door armrests are finished in black Silk Nappa leather with contrasting red stitching.
Like the RS4 of old and the Lamborghini Gallardo, the steering wheel is flat bottomed.
All the usual Audi options are available, including Xenon plus headlights, an LED interior lighting package, light and rain sensors, an acoustic rear parking system, automatic air conditioning, a 'convenience key' and cruise control. An integrated Wi-Fi hotspot system is available too.
The car will be available in May 2012, but prices have yet to be announced.
[portfolio_slideshow]