Video Published on July 2nd, 2013 | by Seán Ward
0
How to Turn a Classic Saab into a Rally Car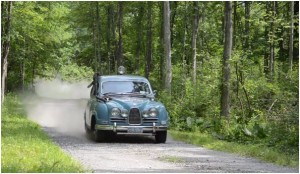 This time on AFTER /DRIVE, Mike Spinelli caught up with arguably one of the coolest and most interesting car guys in the world, Bruce Turk, President of the Vintage Saab Club North America, and owner of a rally 1961 Saab 96.
Bruce bought the 96 in a bad way, and over the course of four years he rebuilt it to a better standard than it had left the factory in originally.
Then, after winning a few concours awards, he decided to strip it out, take it rallying and enjoy all the performance the 60 bhp engine has to give.