Stories Published on March 9th, 2012 | by Seán Ward
0
Hundreds of Ferraris and Lamborghinis at Brooklands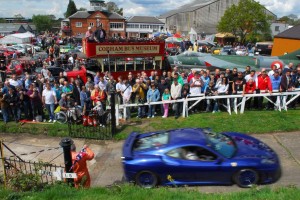 Auto Italia has announced that the Italian Car Day held at Brooklands each year will play host to the largest number of Italian cars for a UK event in May.
2000 Italian cars are due to attend the event on the 5th of May, of which more than 600 are Ferraris of Lamborghinis, as well as Lancias and Paganis.
Event organiser Phil Ward said "the greatest thing about the event is that it welcomes Italian car enthusiasts and owners, regardless of whether they own a famous historic racing car, the latest road-going Ferrari, a much-loved classic or the smallest, most affordable modern Fiat on the market.
"Anyone who turns up in an Italian car – or motorcycle – forms part of the display, rather than being merely a spectator."
"In addition to the vast displays of exotica and 'obscurati', there is always a good, solid turn-out of classic and modern Alfa Romeos, Fiats and Lancias, so no one need feel outshone when they turn up in their Italian pride and joy and park up with similar models."
Ward says even the most outrageous and unknown Italian marques can turn up, giving the 5000 visitors something unusual to look at.
One of the reasons why so many different cars turn up each year, he explains, is because of the move to Brooklands: "We ran the first Italian Car Day at Syon Park back in 1986 when it was a champagne picnic with just 85 people. Ten years later we moved to Brooklands, and the event has grown and evolved until it's become the UK's largest gathering of Italian cars and Brooklands' biggest event of the year. But we remain true to our original aim of providing a real enthusiasts' event, with a low entry price, to cater for everyone who owns – or simply admires – Italian cars and motorcycles."
Advanced tickets are on sale now at http://brooklandsmuseumshop.com.
[portfolio_slideshow]