Geneva Motor Show 2012 Published on December 16th, 2011 | by Seán Ward
0
Hyundai Concept Teased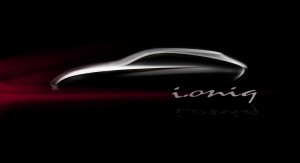 Hyundai's latest concept car, the i-oniq, has been teased today in the first of many images due to be released by Honda over the coming months.
The i-oniq will be the first new Hyundai to use the 'fluidic sculpture' design language, which will be rolled out on all new Honda's over the next decade, but the image leaves a lot about the car's full appearance to the imagination.
Thomas Bürkle, Hyundai's European Chief Designer, said: "Two strong arched curves define the silhouette of i-oniq, creating a playful contrast between the sharp character lines and soft but muscular features."
The i-oniq will be sown in full for the first time at the 2012 Geneva Motor Show.