Stories Published on February 29th, 2012 | by Seán Ward
0
It's Scary Lending Your New GTR to a Friend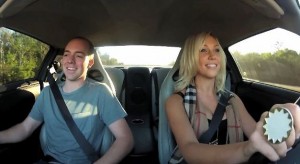 We wrote a few days ago about Robert Himler and his latest addition to his garage, namely a 2010 Nissan GTR.
He explained that his car might not stay stock, but until changes are made he'll enjoy his GTR to the full.
But in reality, his latest video proves that to get the most from a GTR you must hand your keys over to a friend and try desperately not to scream like a girl and cry for help.
Not only does look Robert look a little clenched as his Australian friend Amy takes his new car to 180 mph, but he is obviously displeased when she realises she has never driven a left hand drive car before.
180 mph in a GTR with someone at the wheel who has no knowledge of how to drive in the US? Sounds like a good video.