Stories Published on August 23rd, 2011 | by Seán Ward
0
Jaguar C-X16 – Jaguar's Future Sports Car?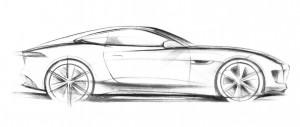 Jaguar has released a single sketch of a new sports car due to be unveiled at the Frankfurt Motor Show in September.
The C-X16 concept is a precursor to future Jaguar sports cars that will aim to 'set new class benchmarks in design, vehicle dynamics and technology', according to Jaguar.
And because it's been designed by the same people that designed the XF, XK and XJ, it should be one of the best looking cars to be unveiled this year.
Not only that, but Ian Callum, of Jaguar and Aston Martin fame, had a bid hand in the design again too.
Adrian Hallmark, Global Brand Director, Jaguar Cars said: 'Jaguar has set in place bold, ambitious plans for the future.
"This production concept demonstrates the depth of design and engineering ability we have within Jaguar to make these plans come to life – I look forward to sharing this latest, exciting step at the Frankfurt Motor Show."
Full details of the C-X16 will be released on Wednesday 7th September.