Concepts Published on June 26th, 2013 | by Seán Ward
0
Jaguar C-X75: Stunning New Pictures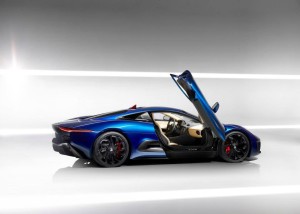 Fans of the extreme Jaguar hybrid-hypercar concept C-X75 Concept, prepare to salivate: Jaguar have released more pictures!
Painted in blue, this example is a stunning machine, and the C-X75 itself is one of the best looking concept cars of all time, especially in comparison with the aero-orientated Ferrari LaFerrari and McLaren P1.
Jaguar still say they won't make it, but having just let a load of journalists drive it on track, and after a recent resurgence in C-X75 interest and media coverage, it could still happen.
Originally, the C-X75 had two gas-turbine motors which, alongside four electric motors, would produce around 780 bhp.
But since the original concept, Jaguar had a change of heart and swapped the futuristic gas-turbines for a 500 bhp, twin-turbo four-cylinder petrol engine, which is then coupled to the electric motors which themselves produce an additional 380 bhp.
0-60 mph takes less than 3 seconds, 0-100 mph takes less than 6, and the top speed is over 220 mph.
Jaguar, make the world a better place: build it.
[portfolio_slideshow]