Stories Published on April 4th, 2012 | by Seán Ward
1
Jaguar F Type Unveiled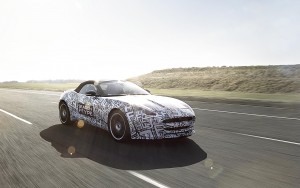 Jaguar has unveiled its first two seater sports car since the legendary E-Type until today, with the new F-Type.
As of yet, the badge is the only thing to be shown without the camouflage, but none the less, the F-Type looks good.
More to the point, it sounds good (howling like a proper Jag' should!), as you'll see in the videos; they've ditched the V8 of the XK, probably in keeping with the smaller engines in the E-Type, and gone for what sounds like a flat-six. If anything, it sounds like the engine from a Nissan GTR, so it might even see a turbocharger, although that would be very un-Jag'.
Speaking at the New York Auto Show today, Adrian Hallmark, Global Brand Director for Jaguar, said: "We showed the C-X16 concept in September 2011, and the reaction to it has been so positive that we've accelerated our development of an all-new Jaguar sports car.
"That car will be called the F-Type, and it will be unveiled in production form later this year.
"The core appeal of Jaguar's cars is their sporting heart, and that heart will beat stronger than ever before in the F-Type. Its development is a vivid representation of the confidence and ambition of the Jaguar brand, and the desire amongst our engineers and design team to produce a world-leader in a market segment that we have been absent from for too long."
Finally, he added with a distinct air of menace about his voice: "But no longer – the F-TYPE is coming."
For those who were too young or too un-born to see the unveiling of the E-Type, be ready to see something just as spectacular.
[portfolio_slideshow]