Stories Published on November 18th, 2011 | by Seán Ward
0
Jaguar XKR-S Debuts at LA Auto Show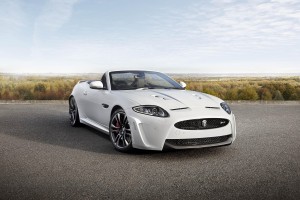 Following the launch of the Jaguar XKR-S, Jaguar has launched the convertible variant of Jaguar's fastest current production car.
Debuted at the 2011 Los Angeles Auto Show, the convertible has lost very little of the menace seen in the coupé.
The 5 litre supercharged V8 engine produces 542 bhp and 680 Nm of torque, more than its main rival, the Aston Martin DBS Volanté.
The 0-60 mph sprint takes just 4.2 seconds, and 0-100 mph 8.7 seconds, thanks to a very quick six-speed semi-automatic gearbox.
The top speed, Jaguar claims, is only 186 mph, but with over 540 bhp, it will probably do a little more than that in reality.
Ian Callum, Director of Design at Jaguar, famous for creations like the previous XK and the Aston Martin DB7, said that "Taking the track-oriented ethos of the XKR-S Coupe and applying it to a convertible is very exciting.
"There is a real spirit and thrill to driving with the roof down and in a car capable of these speeds that is going to be exaggerated to create a very dramatic and special experience."
Adrian Hallmark, Jaguar Global Brand Director, added the new XKR-S Convertible represents the pinnacle of performance and glamour in motoring: "There is nothing as liberating as life behind the wheel of an open-topped Jaguar and the new XKR-S Convertible takes the Jaguar GT experience to new heights."
To cope with the roof loss, chassis stiffness has been increased by 23%, in theory making it a more focussed and responsive car than the Coupé. The Adaptive Dampening system has increased suspension stiffness too by 28%.
And to keep it on the road, the convertible features the usual traction control systems and Pirelli P-Zero tyres.
[portfolio_slideshow]