Motor Shows Published on March 26th, 2013 | by James Allen
0
Jaguar XKR-S GT revealed ahead of New York Auto Show debut
Jaguar has made an early pre-show debut of the most extreme road-legal XK model to date, the XKR-S GT.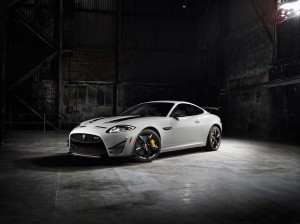 Built to celebrate 25 years of 'R Performance' Jaguars, the XKR-S GT is described by its makers as "the ultimate track-focused but road-going iteration of the XK coupe", and as such has been given a comprehensive hardware overhaul over the standard XKR-S.
Whilst the power of the 5.0 supercharged V8 and the top speed stay put at 550hp and 186mph respectivley, the new aerodynamic components – most notably the gargantuan rear spoiler – all contribute to a massive increase in overall downforce: Jaguar claims up to 145kg of downforce is generated at the car's maximum velocity.
The suspension has also been overhauled: new adjustable Eibach adjustable dampers have been installed, whilst the front track has been made 52mm wider, and  the whole car 68% stiffer than the regular XKR-S.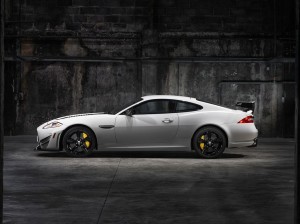 Top that off with wider 20in Pirelli tyres, a faster steering rack that's been modelled by the system used on the upcoming F-Type, and carbon brake discs (a first for a road-legal Jaguar), and the claims of a 0-62mph time of 3.9 seconds – three tenths faster than a standard XKR-S – and a circa-7.40 lap time around the Nurburgring Nordschliefe aren't too impossible to believe.
Despite the XKR-S GT's inherent track focus, though, Jaguar doesn't appear to have made many alterations to the car's cabin, nor have any details regarding a reduction in weight been mentioned.
Jaguar will be limiting production to just thirty units, and all are destined to be shipped across the Atlantic – 25 will be allocated for the US market, with the remaining five for Canada.
However, it's being reported that, should there be enough demand, it's possible a limited run of right-hand drive XKR-S GT models will be produced.
[portfolio_slideshow]