Stories Published on November 22nd, 2011 | by Seán Ward
0
James Bond's Aston Martin is Britain's Favourite Movie Car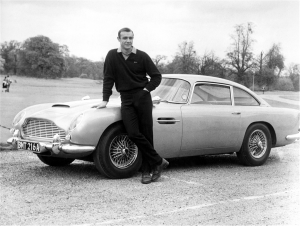 Auto Express has announced that James Bond's Aston Martin DB5 is Britain's favourite movie car.
An online survey asked thousands of British motorists to choose their favourite movie car of all time, and the DB5 driven by Sean Connery in the 1963 film Goldfinger came out on top.
The car itself was sold at auction last year for £2.6 million.
The 1981 DeLorean in Back to the Future came in at second place in the movie car league table. The car, driven by Doc Brown, was shown as a time machine, and made the Irish manufacturer famous, even though the car itself wasn't of a very high quality. One of the surviving three cars used in the programme is expected to fetch almost $1 million at auction next month.
In third place was the 1968 Mini Cooper S driven by Michael Caine in the Italian Job. Over 30 Minis were used in the film, none of which have survived.
The 1968 Mustang GT 390 in made famous by Steve McQueen in Bullitt took fourth place, and another James Bond car, this time the 1976 Lotus Esprit seen in The Spy Who Loved Me, came in fifth place, a car which was sold in 2008 for £110,000.
Other cars put forward include Ron Weasley's flying Ford Anglia in Harry Potter, and Tom Cruise's wall-climbing Lexus from Minority Report.