Stories Published on February 11th, 2011 | by Seán Ward
0
James May Awarded Honorary Degree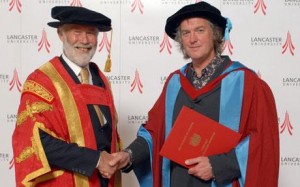 Top Gear's James May has been awarded an honorary degree by the University of Lancaster.
May studied music at Lancaster University from 1982 to 1985, and was presented an Honorary Doctorate in Letters by Christian Bonington, the University's Chancellor, last week.
May said: "Memories came flooding back, like a big wall covered in posters.
May was a member of Pendle College and said he honed his skills in piano and flute playing while studying for his first degree.
May toured his campus just before receiving his degree, saying "I remember it with great fondness and nostalgia".
Published on July 25th 2010 at www.motoringpress.wordpress.com.
.
.
[portfolio_slideshow]