Stories Published on July 7th, 2011 | by Seán Ward
0
Jenson and Lewis in the McLaren GT3 at Goodwood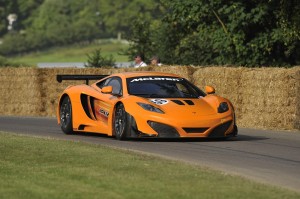 Formula One World Champions Jenson Button and Lewis Hamilton took the new race version of the McLaren MP4-12C road car to the hill at Goodwood at the weekend.
In its world debut, the MP4-12C GT3 car wowed the crowds at the Festival of Speed, alongside the 12C road car.
McLaren Automotive Managing Director Antony Sheriff, who took the cars up the hill alongside Hamilton and Button, said: "I was incredibly proud to represent McLaren at Goodwood this year.  The new 12C GT3 was a constant focus of attention in the McLaren GT enclosure and obviously it was great to see Jenson and Lewis delighting the crowds as the car made its dynamic debut.
"The festival comes at an exciting time for McLaren Automotive. We recently opened the first of 35 global retailers; we are near to completing the McLaren Production Centre adjacent to our headquarters in Woking; we have a stunning new race car in development and very soon our customers will begin taking delivery of their own MP4-12Cs.
"Having debuted the 12C road car at last year's festival, it was terrific to bring the GT3 along for company this year. It really feels now that our car company is taking shape."
McLaren has also released a video documenting the driver's experience of the McLarens at Goodwood.
[portfolio_slideshow]