Stories Published on August 26th, 2011 | by Seán Ward
0
Jeremy Clarkson's Sports Train Comes to Beaulieu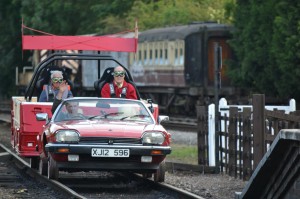 Yes, you read that right – the legendary sports train, featured in the latest series of Top Gear, is coming to Beaulieu Motor Museum as part of an ongoing Top Gear exhibition.
The TGV12 Passenger Sports Train is based (you'd never guess it) on a 6 litre V12 Jaguar XJS, and featured on Top Gear when the trio were challenged to save money on the railways, and race from Leicester to Loughborough.
The Jag won, and did so, Beaulieu notes, without catching fire, unlike the multi carriage caravan passenger train created by Richard Hammond and James May.
Beaulieu also said that "strangely, none of the major rail networks have shown any interest in this innovative design which is why it's at Beaulieu instead".
The World of Top Gear features a collection of cars, created by the presenters, for some of their most ambitious challenges on the TV show over the years. Exhibition highlights include the Top Gear 'Enormodrome' which recreates the feel of the Top Gear studio, where the TV show is filmed in front of a live audience.