Stories Published on February 1st, 2012 | by Seán Ward
0
Jeremy Clarkson Voted Worst Co-Driver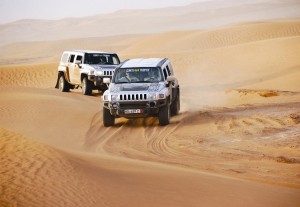 A poll conducted by Continental Tyres has shown BBC's Top Gear presenter Jeremy Clarkson would be the worst co-driver or passenger out of all UK celebrities as voted by the public.
2,000 motorists were asked to chose who they would least like to spend a trip across the Sahara in a 4×4, with Clarkson coming in leaps and bounds above Katie Price in second, and David Cameron in third.
A large proportion of those questioned said that they would much rather be joined by a family member, partner or close friend.
The research was conducted as part of the launch of this year's Conti 4×4 Trophy, where members of the public compete for a place off road challenge driving a Hummer across the Sahara Desert.
"Driving thousands of miles through the Atlas Mountains and the fiery sands of the Sahara Desert makes your choice of co-driver incredibly important," said Tim Bailey, spokesperson for Continental Tyres.
"It's a long, tough and often dangerous journey, and shouldn't be considered lightly.
"Jeremy Clarkson might have motoring credentials but either his calamitous road trips on Top Gear, his lack of practical skills, or his outspoken views mean most people would leave him behind."
A sideline to the main survey showed that men would most like to share the trip with Kelly Brook, and women would let Robert Pattinson, to quote Continental Tyres, 'rev their engine' on the long journey.
The top ten is listed below:
1.      Jeremy Clarkson
2.      Katie Price
3.      David Cameron
4.      Kate Moss
5.      Carol Vorderman
6.      Christine Bleakley
7.      Nick Clegg
8.      Madonna
9.      Simon Cowell
10.  Lewis Hamilton