BTCC Published on April 28th, 2012 | by Seán Ward
0
Jordan on Pole at Thruxton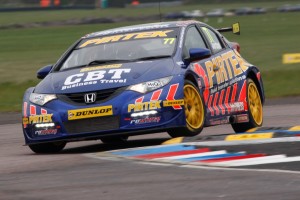 Andrew Jordan is on pole position for the first of tomorrow's BTCC races at Thruxton in his Pirtek Racing Honda Civic.
His fastest time was a 1m 16.983s, with an average speed of 110.17 mph.
Championship leader Jason Plato is in second position in his MG KX Momentum Racing MG6, with his qualifying time 0.824s slower than Jordan, and Frak Wrathall secured third position in his Dynojet Toyota Avensis, 1.019s behind Jordan.
Matt Jackson is in fourth, followed by Dave Newsham, Rob Collard, Aron Smith, Lea Wood, Liam Griffin and Tom Onslow-Cole.
Speaking after his qualifying run, Jordan said: "That was a real man's pole position lap – to do it around Thruxton which is an 'old school' style circuit with no margin for error makes it extra satisfying. Even more so as we beat the 1m17s barrier which hardly ever happens."
While Plato managed second, he also managed to send his car flying off the track: "The car swapped ends on me as I went into Church Corner at about 140mph, but I managed to get it pointed in a straight line before it left the track. That helped and it was a fairly soft landing all things considered. A shame, though, because I was up on my best lap at that point."
Third place Wrathall said he could have been higher up the grid: "I'm delighted and felt I could have gone even faster. I'm just going to enjoy the moment and not even think about tomorrow. Everyone's talking about the weather but I couldn't care less. We get what we get and then get on with it."
Finally, seventh place Smith, in his second season of BTCC, said: "The session went well, I'm happy to be inside the top seven. The team did absolutely everything they could to fix the gear box problem in the first session, but meant that we didn't do much running this morning."
"Looking ahead to tomorrow, every race is tough, especially with so many experienced drivers out there. If I can pick off a few places in the first race, and do the same again in the second, we'll keep moving forward. I think that we can get three solid results here this weekend."
Racing starts at 11 am tomorrow morning, and the final race will be at 5 pm.