Stories Published on January 21st, 2012 | by Seán Ward
0
Kahn Breathes on 458 Italia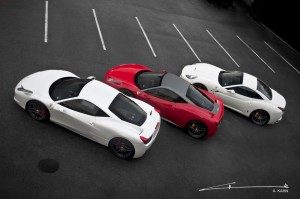 A. Kahn Design has turned its attention to the Ferrari 458 Italia, creating probably one of the best looking Ferraris in history.
Available in two colours (triple pearl white and Rosso Corsa red), customers can opt for a matt Pearl Grey finish to the Roof, matt pearl grey side skirts, and matt pearl grey front and rear bumper sections.
Although, Kahn says that, in reality, you can chose to have anything you want: "Even though these vehicles come with interiors, we provide our customers with the opportunity to express one's individuality – they can have whatever they want.
"We could, for example, design for you a vehicle with an exterior the colour of your shirt and an interior the same shade of your living room, the choice is yours." If only we had the arduous task of making that decision.
Also included in the package is the Kahn sports suspension system, and red brake callipers for the white 458 and yellow callipers for the red 458.
Kahn's forged wheels are included as standard, which resemble the standard 458 wheels but have something of a different look to them.
[portfolio_slideshow]