Stories Published on June 25th, 2013 | by Seán Ward
0
Kart Race Nigel Mansell for a Day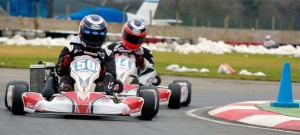 Ever fancied pitching yourself against a former Formula One World Champion? Ever fancied doing it for a whole day? Well now you can, as Mansell Raceway in Devon will hold a day's racing against former champion Nigel Mansell.
Due to take place on the 5th of October at Mansell Raceway in Dunkeswell, Devon, teams of eight will take part in a morning practice session, followed by qualifying, then a three hour endurance race against other teams, one of which will include Nigel Mansell and his two sons Greg and Leo.
Prizes are awarded for first, second and third, as well as to the person who sets the fastest lap of the race.
An outdoor circuit measuring 750m in length, while it could rain for the duration, hopefully racing against, chatting with and learning from Nigel Mansell should be worth your while.
The only slight drawback is the price: one team's entry is £1,600, so each driver is looking at a minimum of £200. Not only that but a £500 deposit has to be put down beforehand, and payment has to be made in full before August 31st.
But in all honesty, how often will you be able to race against Mansell? If you want to race or gain extra experience in karts, sign up quick – it should be a fun day. To make things even more exciting, there's a bouncy castle and space for families to enjoy.
Contact Mansell Raceway for more information.