Uncategorized Published on February 23rd, 2012 | by Seán Ward
0
Ken Block Meets Kenny from the Block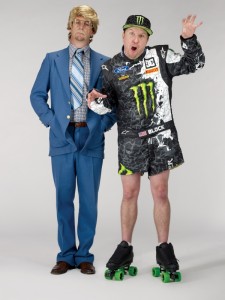 For the first time, Ken block stood out of the spotlight and into the interviewer's seat to interview… Himself.
The self taught Gymkhana legend played the part of 'Kenny from the Block', interviewing Ken Block, played by comedian Nick Swardson.
Block said he was very grateful for all the help he received for the video: "We really went all-out for our launch this year. I phoned in favours to two great friends to assist in our launch videos.
"My buddy, actor and comedian Nick Swardson, came out in a huge way and took my place to give some ridiculous answers to questions during the first part of our season launch program in our 2012 Q&A video. Also, my long-time friend and fellow DC athlete, skateboarder, Steve Berra came out to lend his video skills on the second part of our season launch program, our schedule and livery reveal video.
"They both absolutely killed it and I'm beyond stoked with the results."
It's an odd video, but it's got the new Gymkhana car so we really don't mind.
[portfolio_slideshow]