Stories Published on November 10th, 2011 | by Seán Ward
0
Kia Ray – First Images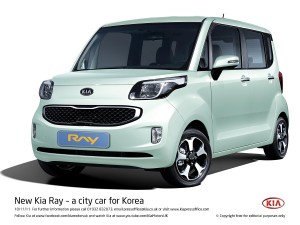 Kia has released the first photos of a new small car aimed at the Korean market: the Ray.
Thanks to the boxy exterior and quirky styling features, the car looks quite good, is economical and very spacious.
Aside from the normal Kia grille, it features a new headlight design, as well as LED running lights, and LED rear lights.
While the front looks not dissimilar to the outgoing Kia Picanto, the door layout is something not seen on previous Kias: a rear sliding door on the passenger side, and a conventional rear door on the driver's side.
Engine specifications will be released closer to the time of launch.
[portfolio_slideshow]