Stories Published on August 21st, 2011 | by Seán Ward
1
Kia's Challenge to German Supremacy?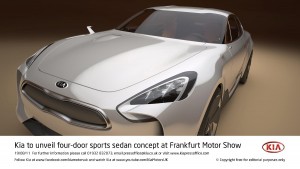 Well, this could be it – Kia's attempt to wipe the smile clean off the German's faces.
Kia has this week announced its plans to build a V8 saloon car to do battle with the likes of the BMW M cars, Mercedes AMG tuning house, and Audi's RS division.
Due to be unveiled at the Frankfurt Motor Show in September, Kia says it "marries sleek and muscular proportions with a sophisticated and elegant four-seater cockpit".
Peter Schreyer, Kia Motors Chief Design Officer, said that "No matter from which perspective you look at it – this concept car is roaring with energy and ready for take-off".
"I believe the car is a strong statement from Kia: we are ready to fast forward to an all new chapter."
[portfolio_slideshow]